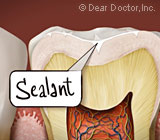 If you were to look closely at many of your teeth, you would notice deep, natural grooves in the enamel surface. Often referred to as "pits and fissures," these are some of the most difficult places in the mouth to keep clean. Toothbrush bristles simply can't reach deep enough into them to be effective; what's more, their warm, moist environment is the perfect breeding ground for bacterial growth. Consequently, pits and fissures are the most common location for tooth decay.
Children are especially susceptible — pits and fissures account for 43% of tooth decay in patients between the ages of six and seven. This is because when children's teeth erupt (first become visible in the mouth) the new enamel is more permeable and less resistant to decay than older teeth. Until the enamel matures, the risk for decay remains high.
Fortunately, in recent years there has been a decrease in the occurrence of tooth decay among children. Better hygiene practices, fluoride products and fluoridated drinking water, better nutrition, and regular dental visits are all factors in this improvement. One development in particular provides children an extra layer of protection — the use of sealants on the tooth surfaces.
Sealants are protective coatings applied to tooth surfaces, especially in pits and fissures that act as a barrier between bacteria and the immature enamel. Although the degree and extent of sealant use varies across the profession, many dentists recommend sealant application in children for all permanent molars and many primary molars soon after eruption.
The accessibility of regular dental care also plays a factor — those who have no or limited access (and thus are at high risk for tooth decay) may benefit from sealants on all of their back teeth, while children with regular care access (low risk) may need only a few. In fact, some dentists only recommend sealants in low-risk children when tooth decay is already present and after first removing as much decay as possible.
The goal, of course, is to prevent decay, or reduce its effects, in children. Sealants can help, but only when coupled with other measures — and a good habit of oral hygiene.
If you would like more information on sealants for children's teeth, please contact us or schedule an appointment for a consultation. You can also learn more about this topic by reading the Dear Doctor magazine article "Sealants for Children."