My Blog
Posts for tag: dentures
By Robert E. Mays Jr., DDS Family & Restorative Dentistry
October 27, 2016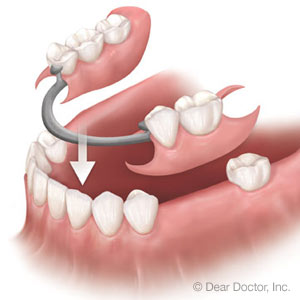 Dentures, removable restorations for missing teeth and gum tissue, can take a number of different forms, but are usually of two different types: complete and partial. A complete denture replaces all the teeth in a given arch. A removable partial denture (RPD), on the other hand, replaces several missing teeth while using the remaining teeth as support.
A common type of RPD formed of plastic is known as a "flipper" because it's lightweight enough to be "flipped out" or moved around with the tongue. They serve an important purpose as a temporary appliance for use between periodontal treatment, implant placement and similar treatments before obtaining a more permanent restoration. In fact, they're often referred to as "transitional" RPDs because they're not designed for permanent tooth replacement.
Because of their low cost relative to other restorations, however, they often become the permanent choice for many people. While a well-constructed, properly fitting RPD in a healthy mouth can be an affordable alternative for people on modest budgets, their long-term use may increase the risk of dental disease and accelerated bone loss. Decades of research verify that people who permanently wear RPDs encounter more tooth decay and periodontal (gum) disease than non-wearers.
This is because the attachment points of a plastic RPD to remaining teeth increases bacterial growth, which can cause both tooth decay and gum disease. This doesn't only endanger the survival of the remaining teeth, it can lead to bone loss that will affect the RPD's fit.
While the better course is to consider RPDs as a stepping stone to dental implants or a fixed bridge, there's an intermediary RPD constructed of cast vitallium or gold alloy that could be considered a permanent choice. These are even lighter weight than plastic and less obtrusive in their attachments in the mouth, which can reduce plaque stagnation and promote a better oral environment.
Regardless of your choice in dentures, it's always important to maintain good consistent oral hygiene with daily brushing and flossing and semi-annual professional cleanings and checkups. Keeping a healthy mouth will help reduce your risk of dental disease and increase your satisfaction with your denture of choice.
If you would like more information on RPDs and other denture restorations, please contact us or schedule an appointment for a consultation. You can also learn more about this topic by reading the Dear Doctor magazine article "Removable Partial Dentures."
By Robert E. Mays Jr., DDS Family & Restorative Dentistry
February 21, 2016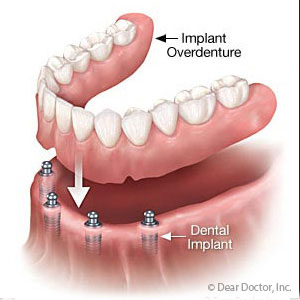 Although dental disease prevention has made great strides over the last century, tooth decay and periodontal (gum) disease continue to pose a major health threat. People who've lost all of their teeth (edentulism) or most of them suffer the most with adverse effects on their overall health, function and appearance.
Removable dentures have been the traditional and most affordable means to treat edentulism. But even with material and construction advances in recent years, dentures can still lose their fit over time as the bone in the jaw shrinks. This happens because the bone no longer has the stimulus of natural teeth and older cells can't be replenished at a healthy rate; the continuing compression of traditional dentures on the jaw's bony ridges compounds the problem.
As the bone shrinks the dentures become loose and uncomfortable to wear. Among other results, this poor fit can drastically affect how you eat: studies of denture wearers have found a decrease in their diet's nutritional value because they're eating fewer vegetables or fibrous, "chewy" foods and more foods with refined carbohydrates and fats that are easier to eat but less nutritious.
There is an alternative, though, that might slow bone loss and provide a better long-term fit: an overdenture supported by dental implants. With this appliance, a few implants are strategically installed in the upper or lower jaw. Matched attachments securely fasten the denture to the implants. In this case, the implants not the jaw ridge and gums support the denture thereby preserving the bone.
If you're healthy enough to undergo a tooth extraction, you should be able to handle implant surgery, a minor procedure usually performed with local anesthesia and with little to no discomfort afterward. It may even be possible to retrofit your current denture to work with the implants, but that will need to be determined during the planning stages.
Although more expensive than a traditional denture, overdentures are much more affordable than fixed restorations stabilized with implants. The difference, though, is the increase in your quality of life — for better nutrition, physical health and social confidence.
If you would like more information on treatment for teeth loss, please contact us or schedule an appointment for a consultation. You can also learn more about this topic by reading the Dear Doctor magazine article "Implant Overdentures for the Lower Jaw."