My Blog
Posts for: November, 2014
By Robert E. Mays Jr., DDS Family & Restorative Dentistry
November 19, 2014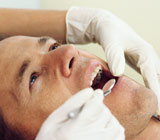 Research has shown that periodontal (gum) disease can affect the health of your whole body. Evidence suggests a relationship between severe gum disease and cardiovascular disease ("cardio" – heart; "vascular" – blood vessel), conditions that lead to heart attacks and strokes. There is also a relationship between gum disease and pregnancy; mothers with severe gum disease have a higher incidence of pre-term delivery and low birth-weight babies. To understand gum disease, you may find the following facts helpful. How many are you aware of?
Periodontal disease — Any disease that affects the areas around the teeth. The word comes from the Latin "peri" meaning around and Greek "odont" meaning tooth. Periodontal disease, or gum disease as it is commonly called, is really a group of diseases with the same outcome: destruction of the periodontal tissues, loss of supporting bone and ultimately the loss of your teeth.
Dental plaque (Biofilms) — A bacterial film that forms on teeth at the gum line, and the reason we brush and floss. Its daily removal is necessary to keep your teeth and gums healthy. A biofilm is a biological film comprised of colonies of living organisms that are generally specific to a particular eco-system. Plaque is one type of biofilm.
Gingivitis ("gingiva" – gum; "itis" – inflammation) — A response of the gum tissues to plaque biofilm that is left undisturbed (due to ineffective, or inadequate oral hygiene). It is the first stage of periodontal disease.
Pocket formation — Just like a pocket on your clothing, pocket formation is the result of separation of the gum tissues from their normally healthy tight attachment to a tooth. Pocketing allows the introduction of bacteria, which perpetuate gum disease.
Abscess — A collection of pus that forms within diseased periodontal tissues. It is experienced as pain, swelling, and discharge of pus from the gum tissues and is an advanced sign of periodontal disease.
Important Tip — Bleeding Gums when brushing teeth or flossing is not normal. It is a warning sign of early gum disease that you should bring to the attention of our office.
Contact us today to schedule an appointment to discuss your questions about periodontal disease. You can also learn more by reading the Dear Doctor magazine article "Understanding Gum (Periodontal) Disease."
By Robert E. Mays Jr., DDS Family & Restorative Dentistry
November 04, 2014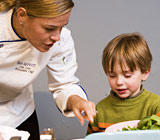 When Cat Cora is not doing battle as the first female chef on the Food Network's hit series Iron Chef America, she is busy caring for the needs of her four active young sons. This includes monitoring the food they eat and their oral hygiene habits.
The busy chef, restaurateur, author, philanthropist and television personality recently revealed in an interview with Dear Doctor magazine that it all started when her four sons were little. She got rid of bottles and sippy cups as soon as possible to prevent tooth decay. She also started exposing her boys to a wide variety of spices and foods when they were infants — for example, by putting cinnamon in their baby cereal. Cat limits the amount of sugar in their diet by using fruit puree in baked goods and BBQ sauces, or the natural sugar substitute Stevia. Furthermore, Cat reports, "my kids have never had fast food."
Cat is right on target with her approach to her children's oral health. In fact, we are often asked, when is the right time to schedule a child's first dental appointment? Our answer surprises some people — especially those expecting their first child.
The ideal time to take your child to the dentist is around age 1. Why so young? A baby's first visit to the dentist sets the stage for lifelong oral health. Besides, tooth decay can start very early. Baby Bottle Tooth Decay (BBTD), as the name suggests, impacts children who often go to sleep sipping a bottle filled with a liquid containing natural or added sugars, such as formula, fruit juice or a fruity drink mix. Another condition, Early Childhood Caries (ECC), is often found in children who continuously use sippy cups (again, filled with sugary liquids), children who breast feed at will throughout the night, children who use a sweetened pacifier, and children who regularly take sugar-based oral medicine to treat chronic illness.
To learn more about this topic, continue reading the Dear Doctor magazine article "Age One Dental Visit." Or you can contact us today to schedule an appointment. And to read the entire interview with Cat Cora, please see the article "Cat Cora."