Dr. Jake Banks
Dentist in Sparks, NV
Dr. Jake Banks is a Sparks native and a graduate of the University of Nevada, Reno where he received a bachelor degree in Biochemistry with high distinction (high honors). After graduation he moved to San Francisco where he earned his Doctor of Dental Surgery degree from the University of the Pacific Dental School and graduated Tau Kappa Omega (honors) in 2011.
After school he practiced dentistry for six years at an elite dental practice in Marin County California that had an emphasis on cosmetics and progressive dentistry. This was an invaluable experience that helped Dr. Banks become a top provider in Marin. Because of his reputation it was a difficult decision for Dr. Banks to leave Marin but ultimately his love for the outdoors and value of family helped him decide to move back to the area.
Continuing education and staying current with the latest dentistry is very important to Dr. Banks. He has pursued advanced training in many areas including complex digital dentistry, implants, and full mouth restorative dentistry. Dr. Banks exclusively designs the majority of his crown, bridge, and implant work in the office laboratory which is uncommon among dentists. Dr. Banks believes that dentistry should be non-toxic, functional, and esthetic.
Dr. Jake Banks has a primary focus of delivering excellent oral healthcare that fully addresses his patient's concerns and health needs in a gentle way. Dr. Banks is committed to making each experience at the dentist pleasant and comfortable. He feels having strong relationships with his patients is essential to their comfort and promotes better communication between doctor and patient which leads to better care.
Dr. Banks is able to provide dentistry using the most modern dental techniques and technology. He provides services in complex restorative dental cases, extraction, implant restoration, smile design, cosmetics, veneers, root canals, soft tissue laser surgery, and more.
Dr. Banks spends the majority of his free time doing activities with his wife, two young daughters, and his two labradors. He enjoys the natural beauty of Nevada to its fullest. Dr. Banks is an avid outdoorsman and enjoys hiking, backpacking, camping, skiing, fishing, and more.
Dr. Michael Britting
Dentist in Sparks, NV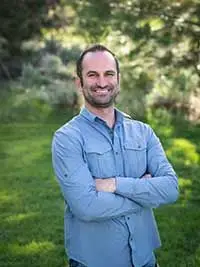 Dr. Michael Britting is a new generation dentist who desires to change the public perception of a dental visit. First and foremost Dr. Britting desires to establish lifelong patient relationships. Taking great pride treating his patients, keeping their smiles healthy, functional, and beautiful, Dr. Britting practices dentistry differently. From a single filling to full mouth rehabilitation using the finest material and techniques, Dr. Britting strives to educate his patients about their oral health, improve their function, and beautify their smiles.
Originally from San Rafael, California, Dr. Britting earned his Bachelor's degree from UC Davis in Neurobiology, Physiology, and Behavior. He earned his Doctor of Medical Dentistry from the University of Nevada, Las Vegas. Dr. Britting continues his postgraduate dental education through continuing education focusing in the areas of esthetic dentistry, implants, and digital dentistry.
In his spare time Dr. Britting enjoys mountain biking, skiing, cooking, and exploring the world with his wife, friends and family. The Britting family just welcomed a new baby boy; the family is now complete with a Poodle, Kitty, and two boys under 2.
Dr. Britting is a member of:
American Academy of Implant Dentistry
Academy of Osseointegration
Los Medicos Voladores
Dr. Robert E. Mays, Jr.
Dentist in Sparks, NV
Dr. Robert E. Mays Jr. was born and raised in Reno, Nevada. He attended The University of Nevada, Reno and graduated in 1981 With Distinction. He attended The University of the Pacific, Arthur A. Dugoni School of Dentistry in San Francisco, California where he graduated top five in his class in 1984. Dr. Mays then was accepted and completed a one year General Practice Residency at the Veterans Administration Medical Center in Sepulveda, California in 1985. He spent one year as an associate in Reno before taking over the practice of Dr. William Anspach in 1986. Dr. Mays has practiced dentistry in the same building for the last 28 years, the last 14 in his current suite.
My training to become a dentist began long before I moved to my current location in Sparks, Nevada in July, 1986. I was born and raised in Reno. I attended school locally through the University of Nevada, where I graduated in 1981 with Distinction with a Bachelor of Science degree. Growing up, my parents made sure I went to the dentist on a regular basis, usually twice a year for cleanings and check ups. The cavities I did have were treated at an early stage with "simple fillings". Going to the dentist was nice for me and I liked getting my teeth cleaned. They felt so smooth afterwards.

My first visits to a dentist in Sparks, Nevada occurred in my early teens when my dentist moved to his new office. I remember going into the new office for the first time. It was like a new house and I thought how great it would be to work in a place like this. A couple of years later, I received orthodontic treatment for four and a half years for too many teeth and not enough space. It was during this time that my interest in dentistry began to grow and it gave me direction for my future education. I attended Dental School at the University of the Pacific in San Francisco, California. As my dental education continued, it became evident that I was not cut out to be an orthodontist. I looked at other specialties in dentistry but I was unable to pick just one. I liked and was pretty good at a lot of things. That is when I remembered my dentist in Sparks, Nevada. He was able to treat numerous conditions and help a lot of people.
I graduated from dental school fifth in my class. This allowed me to pursue an advanced education in general practice. I spent one year in a General Practice Residency in a Veterans Administration Hospital in Sepulveda, California. Once my training ended in the hospital, I returned home and entered into private practice in Reno. One year later, a practice presented itself in Sparks, Nevada and I jumped at the opportunity. I had come full circle. As a young teenager, I had thought "how great it would be to work in a place like this." I had become a dentist in Sparks, Nevada! Dr. Mays retired in July 2022
Professional organizations