My Blog
Posts for: January, 2015
By Robert E. Mays Jr., DDS Family & Restorative Dentistry
January 29, 2015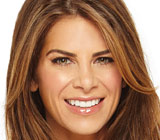 As America's toughest trainer on the hit television program The Biggest Loser, Jillian Michaels helped people learn that they hold the power to change. And if anyone knows about the power of changing oneself, it is Jillian Michaels. In her recent interview with Dear Doctor magazine, Jillian discusses her childhood, the trauma of being overweight as a teenager (5' 2" and 175 pounds), and the day her life forever changed when she started martial arts training at a gym. "I started training when I was 17 and always loved it but never thought it would end up being my career," she said.
Jillian also reveals that when she was a child, she broke her two front teeth and had them repaired with crowns. She added, "Now, I generally wear a mouthguard if I am doing anything where my teeth have any chance of being knocked out."
When it comes to replacing teeth that are broken or damaged from trauma, or teeth that are damaged because of dental decay, grinding habits, or acid erosion, crowns may be your best option. And because the tooth enamel is damaged, a bit more of it must be removed before we can place a crown. Generally speaking, we must remove about 2 millimeters of tooth structure to place a crown. Once the crown is placed, the tooth will always require a crown, as this is an irreversible procedure. However, the good news is that a crown not only mimics the look and feel of a natural tooth, but it is also the optimal long-term solution. On average, a crown last between 5 and 15 years and requires no special maintenance. In fact, you should treat your crown as you do your natural teeth, with a daily cleaning regimen of brushing and flossing and routine dental examinations and cleanings.
To learn more about crowns or other cosmetic procedures, contact us today to schedule an appointment so that we can conduct a thorough examination, discuss any questions you have as well as what treatment options will be best for you. Or to learn more about crowns now, you can continue reading the Dear Doctor magazine article "Porcelain Crowns & Veneers." And to read the entire interview with Jillian Michaels, please see the article "Jillian Michaels."
By Robert E. Mays Jr., DDS Family & Restorative Dentistry
January 14, 2015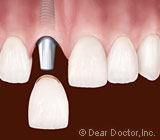 As dental implants increase in popularity, the surgical procedures to install them are becoming quite commonplace. Still, many people are nervous about this procedure, perhaps not really knowing what to expect. So if you're considering dental implants, here's a rundown of what happens before, during and after the procedure.
Dental implants are actually a tooth root replacement system. A post made of titanium is inserted into the jaw bone at the site of the missing tooth. Because of titanium's bone-friendly molecular structure bone cells naturally gravitate to its surface; over time the inserted post and bone will fuse. After a few weeks of this process, the post will be ready for a porcelain crown, bridge or overdenture to be attached to it.
Before the implant surgery you will undergo a complete dental exam. Everything is planned out in advance so that we know the exact location along the jaw to place the implants. In many cases we create a surgical template that can be used during surgery to identify these precise locations.
The procedure itself is painless for most patients, requiring only a local anesthesia. The procedure begins with small incisions in the gum tissue to allow us to see the precise point in the bone for the implant. We then create a small hole in the bone, using a drilling sequence of successive larger holes until we've achieved the best fit for the implant (during drilling you may experience a mild vibration). We then remove the implants from their sterile packaging, place them immediately into the drilled hole, then stitch the gum tissue back into place.
After surgery, most patients encounter only a mild level of discomfort for a day or two. This can be managed by prescription doses of common pain relievers like aspirin or ibuprofen, although we will use surgical strength ibuprofen. Rarely do we need to prescribe something stronger.
Once the implant fuses permanently with the bone, we then affix the final crown or other dental device in a painless procedure. This final step will give you back not only the use of your teeth, but a more appealing smile as well.
If you would like more information about dental implant surgery, please contact us or schedule an appointment for a consultation. You can also learn more about this topic by reading the Dear Doctor magazine article "Dental Implant Surgery."