My Blog
Posts for: November, 2015
By Robert E. Mays Jr., DDS Family & Restorative Dentistry
November 23, 2015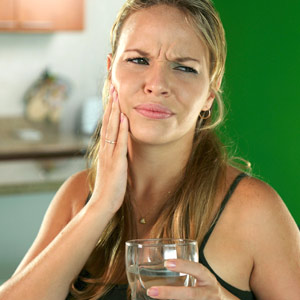 You may be among the one in three Americans who suffer from the pain of tooth sensitivity. Before attempting treatment, though, we must first identify the cause.
Your teeth are made of layers of different organic tissue. The pulp at the center of the tooth contains nerves that transmit pain or pressure sensation to the brain. The pulp is encased by dentin, a layer of tissue composed of tiny tubules that conduct temperature and pressure changes from outside the tooth to the pulp nerves. The hard outer enamel shell shields the dentin from over-stimulation from these sensations.
There are, however, some instances where the dentin may become exposed and cause sensitivity in the tooth. This can occur when the gum tissue recedes and the root of the tooth is exposed to the oral environment. If the root loses its surface coating (referred to as cementum, a cement-like outer layer around the root surfaces) because of over-aggressive brushing (too hard for too long) or advanced periodontal (gum) disease, sensitivity is often the result.
Another instance is enamel erosion. Although made of the hardest substance in the human body, enamel has one major enemy — acid. A high oral acid level brought on by over-consuming acidic foods and beverages or as a symptom of gastric reflux disease dissolves (de-mineralizes) the enamel's mineral content. Brushing just after eating actually contributes to de-mineralization because the enamel is in a softer state. It requires forty-five minutes to an hour for your saliva to neutralize acid and restore minerals to the enamel — you may actually be brushing away enamel with this practice.
Once we know the underlying cause, we can use an appropriate method to reduce sensitivity. One way is to reduce nerve sensitivity in the dentin's tubules or block them altogether. There are several chemical products for both home and dental office application that can reduce sensitivity and encourage enamel re-mineralization (as can the fluoride added to toothpaste). We can also strengthen enamel and provide a mechanical barrier to acid through concentrated fluoride in a varnish applied to tooth and root surfaces. And, life-like restorations like crowns or veneers not only improve the appearance of your teeth, they can also provide coverage for exposed dentin.
If you are experiencing painful sensitivity, make an appointment to visit us. Once we know the source, we can treat the problem and reduce your discomfort.
If you would like more information on tooth sensitivity and how to treat it, please contact us or schedule an appointment for a consultation. You can also learn more about this topic by reading the Dear Doctor magazine article "Treatment of Tooth Sensitivity."
By Robert E. Mays Jr., DDS Family & Restorative Dentistry
November 15, 2015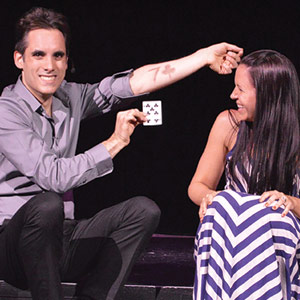 Magician Michael Grandinetti mystifies and astonishes audiences with his sleight of hand and mastery of illusion. But when he initially steps onto the stage, it's his smile that grabs the attention. "The first thing… that an audience notices is your smile; it's what really connects you as a person to them," Michael told an interviewer.
He attributes his audience-pleasing smile to several years of orthodontic treatment as a teenager to straighten misaligned teeth, plus a lifetime of good oral care. "I'm so thankful that I did it," he said about wearing orthodontic braces. "It was so beneficial. And… looking at the path I've chosen, it was life-changing."
Orthodontics — the dental subspecialty focused on treating malocclusions (literally "bad bites") — can indeed make life-changing improvements. Properly positioned teeth are integral to the aesthetics of any smile, and a smile that's pleasing to look at boosts confidence and self-esteem and makes a terrific first impression. Studies have even linked having an attractive smile with greater professional success.
There can also be functional benefits such as improved biting/chewing and speech, and reduced strain on jaw muscles and joints. Additionally, well-aligned teeth are easier to clean and less likely to trap food particles that can lead to decay.
The Science Behind the Magic
There are more options than ever for correcting bites, but all capitalize on the fact that teeth are suspended in individual jawbone sockets by elastic periodontal ligaments that enable them to move. Orthodontic appliances (commonly called braces or clear aligners) place light, controlled forces on teeth in a calculated fashion to move them into their new desired alignment.
The "gold standard" in orthodontic treatment remains the orthodontic band for posterior (back) teeth and the bonded bracket for front teeth. Thin, flexible wires threaded through the brackets create the light forces needed for repositioning. Traditionally the brackets have been made of metal, but for those concerned about the aesthetics, they can also be made out of a clear material. Lingual braces, which are bonded to the back of teeth instead of the front, are another less visible option. The most discrete appliance is the removable clear aligner, which consists of a progression of custom-made clear trays that reposition teeth incrementally.
How's that for a disappearing act?!
If you would like more information about orthodontic treatment please contact us or schedule an appointment for a consultation. You can also learn more about the subject by reading the Dear Doctor magazine article "The Magic of Orthodontics."